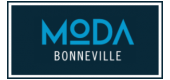 Your Review
Submit a Review

Resident Reviews
|

Recommended: Yes
Thank you! We're glad you're liking the place! -Olive West Management
|Recommended: Yes
Great spot — decent place, bit expensive but overall lovely
Thank you for your feedback! We're happy you think Moda Bonneville is lovely!
|Recommended: Yes
Excellent Community — After researching newer downtown SLC properties for a few months, we are SO glad we chose Moda Bonneville. The location, pricing, and amenities are compatible with the area, but the service and friendliness provided are not. You won't regret making the move
Thanks! We love having you in our community!
|Recommended: YesDog-friendly place close to everything — Moving from out-of-state during COVID-19 made it hard to find rentals as we were not able to tour in-person. The management staff did a great job with sending us videos and scheduled a video chat meeting. The negative for us is that we have VERY noisy upstairs neighbors and have approached management about it. The noise still persists, but this may just be situational because our neighbors on our floor don't hear their neighbors as frequently. So when looking at a particular unit, ask if there are kids above or any previous noise complaints Lastly, the dog run in the back of the apartment is always pretty dirty as dog owners don't pick up after their dogs however, it is very nice to take our dog on a walk around the neighborhood so it does not affect us much.
|Recommended: YesNice Apartment — Its really nice choice
|Recommended: YesConvenient great location — quiet,good temperature control, Wonderful parking.
|Recommended: YesGood — good
|Recommended: Yes
Hyped to Live Here — I'm going to be honest this is my first day living here, so I may not be the best resource for a reliable and informative review, but I am absolutely HYPED to live here. The apartment and the amenities are beautiful and clean and lovely. The location is great. The management has been kind and helpful. I have already seen a number of attractive residents other than myself in the mirror and I've only just moved in. MOVE IN AND LET'S PARTY respectfully .
HI Amy, We are glad to here that you are enjoying your time here thus fare. Please do not hesitate to let us know if you need anything. Best, Moda Bonneville Team
|Recommended: Yes
Great — Great
Hi Haoming, Thank you for your feedback. If there is anything that we can help you with please do not hesitate to reach out. Best, Moda Bonneville
|Recommended: YesGreat first apartment — Everything about Moda Bonneville it great. It is new, clean and has great amenities.
|Recommended: Yes
I love living here so far — It is a very clean, friendly environment. So far I have had no issues other than all the pieces not being in the media box. Staff is friendly and helpful.
Thank you so much for your feedback! We are so glad that your are enjoying your time at Moda Bonneville so far. I do apologize there were missing items for the Directv, hopefully we got that taken care of for you. If not, please feel free to come down to the office and we will get that fixed as soon as we can. Thank you again! -Moda Bonneville Manager
|Recommended: YesYou don't get what you pay for — I liked living here since it's a prime location but over the past year there are some things that could have been improved. The things I didn't enjoy was that the hot tub has only be open a couple of months so I barely got to use it. The security could be better with cameras in the parking garage since there's no service down there and there have been break ins. The trashcans around the apartment complex are always overflowing with trash. The second elevator is always covered in dog hair and has those gross wall covers on it so it's very unappealing to guests. There's also very limited guest parking so there is rarely available spots open for guests to park. Other then those things, my apartment itself has never given me a problem and if there was something I needed fixed the maintenance guy was there that day to fix it. It was very clean and felt like new when I moved in and has stayed that way since living here. I would love to continue living here since my apartment is super nice and I can see their improving the appearance of the building slowly, like the fact the courtyard has been under construction for months now. I just don't think it's worth as much as I'm paying. I'd also recommend getting a parking spot inside since there are homeless people that like to linger around outside the building and one was shooting up in my parking spot one night. If there was better security, the front office was available easier to reach more often and more cleanliness around the apartment than absolutely I'd continue living here but for now I can find somewhere better for the price I'm paying.
|Recommended: YesAmazing community, I love it — It's very clean, great area, very nice staff members, maintenance is timely and efficient, really great place to live
|Recommended: YesGood location, awesome managers — I had good time living here. Everyone was nice and friendly.
|Recommended: YesGood — It is good to live here.